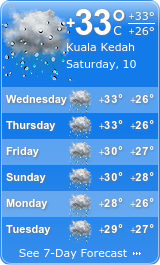 Langkawi,(Jawi:لانكاوي ) officially known as Langkawi, the Jewel of Kedah (Malay: Langkawi Permata Kedah) is an archipelago of 99 islands (an extra 5 temporary islands are revealed at low tide) in the Andaman Sea, some 30 km off the mainland coast of northwestern Malaysia.

Langkawi is a duty-free area.

Get in
---
By boat
Langkawi Ferry operates fast A/C boats from Kuala Perlis (75 min), Kuala Kedah (105 min), Penang (165 min), and Satun, Thailand (75 min), (Satun ferry to Langkawi: last boat departs Satun at 4PM.

Telaga Harbour operates ferries from Ko Lipe, Thailand twice per day during the high season, at 9:30AM and 2:30PM (75 min). These boats dock at the south end of Pattaya Beach. Bookings can be made online.

By plane
Langkawi International Airport (IATA: LGK | ICAO: WMKL) is located at Padang Matsirat, on the northwestern part of the island. There are no airbridges, so in the event of rain, the airline will supply umbrellas for the walk to the plane.

The following airlines offer service to/from Langkawi: AirAsia to Singapore, Penang, LCCT, KLIA2 , Malaysia Airlines to KLIA, Firefly to KL's Subang skypark airport and Penang, and SilkAir from Singapore.

Direct flights are available to Langkawi from Penang, Singapore, Kuala Lumpur, Hat Yai, and Phuket.

Get around
---
There is effectively no public transport on the island, so your choices are to use taxis or to rent a car, motorbike/scooter, or bicycle.

By taxi
A taxi service available from the Airport to Pantai Cenang. You can buy a coupon at the taxi desk in the airport. Also available from the ferry terminal to Pantai Cenang. All taxis work to a fixed price system, a fare from one part of the island to another is always the same price. This system results in higher prices, but very few problems since the taxi drivers are paid well enough and do not try and rip off tourists or participate in any of the dodgier shenanigans seen elsewhere in South East Asia. The result is a reliable and trustworthy, but more expensive taxi system.

By car or motorbike/scooter
Renting a car or motorbike/scooter is highly recommended due to lack of public transport. Remember to have regularly check on your fuel level, petrol pump stations, (gas stations) are far from one another. Remember to drive safely and slowly on the island and on the left side of the road. There are tourists, children and animals like chickens, cows and even buffaloes crossing. Laws you need to know. 1. Drivers Licence needs to be with at all times. 2. Seatbelts mandatory in all vehicles. 3. Helmet mandatory. 4. International driver's license if from another country.

By bicycle
You can rent bicycles in Pulau Langkawi.

Food, Shopping & Information
---
Practically all resorts have their own restaurants and some tourists choose to eat in, but there are a many other options as well. Be adventurous and strike out on your own to savour the numerous foods at the stalls and restaurants all over Langkawi. Try one of the many seafood restaurants. Having said that, beware of certain restaurants advertised in the brochures targeting tourists.
If you choose order seafood or fish, take note if the price is by weight or by a set price for the dish. The unwary can be hit with a much larger bill than expected.
Because of Langkawi's tax-free status, alcohol is much cheaper than in the rest of Malaysia. Religious Muslims do not consume alcoholic drinks, and while they do tolerate non Muslims who do, try not to behave in a rowdy imbibed manner near them, their houses, mosques, and please respect local culture and communal sensitivities. For those living on a budget, you can obtain alcohol at cheap prices from the local duty free shops - the larger the outlets, the lower the prices.
Despite low alcohol prices, Langkawi is predominantly popular with couples and families. Single travellers and backpackers may therefore be disappointed with the lack of nightlife. Most bars remain empty, particularly in the low season, and the 1-2 nightclubs may only seem worthwhile in the peak season, and even then only on Friday or Saturday nights. Overall, Langkawi provides a family-friendly alternative to Thai locations such as Phuket and Koh Samui.

Content is available under Creative Commons Attribution-ShareAlike 3.0