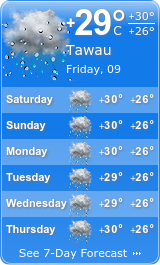 The third largest town of the state of Sabah, situated on the island of Borneo. It is a relatively new town in Malaysia, boomed in early 1980s for its lumber and cocoa farming industry. Today Tawau is a bustling town where it is a transit point to all neigbouring islands such Sebatik, Nunukan, Tarakan, Jolo and Semporna islands.

Get in
---
By plane
Tawau International Airport (IATA: TWU, ICAO: WBKW) is the second international airport of Sabah. There are flights from Kuala Lumpur (2 hr 45 min, daily), and Kota Kinabalu (45 min, daily) on Malaysia Airlines and AirAsia. In addition, there are also flights from Sandakan (40 min, daily) on MASwings. The airport is about 33 km away from the town.

By coach
There are daily buses from Kota Kinabalu's North City Bus Station, but it's a long nine-hour journey.

By ferry
The main ferry connections are to the Indonesian cities of Nunukan and Tarakan, both in East Kalimantan province.

To/from Nunukan: Two departures daily from Tawau, Tawindo Express, Labuan Express, at 10 AM and 3 PM. From Nunukan, departures are at 9AM and 2PM. Journey time is 1 hour. To/from Tarakan: One departure daily except on Sunday from Tawau. Tawindo Express sails every Monday, Wednesday and Friday at 11.30am, while Indomaya Express departs every Tuesday, Thursday and Saturday at 10.30am. Travelling time is 3 hours.

Get around
---
By taxi
Taxi available to travel around town and nearby housing area.

By Bus
Travel within town areas. And to the rural areas like Balung and Merotai.

Food, Shopping & Information
---
Within the region of Tawau, tourists can also dive from the islands of Roach Reefs or take an hour drive to Semporna to dive at popular destinations like Mataking, Mabul, Pompong, Kapalai and the Great Sipadan - The only oceanic island in Malaysia, rising about 5000 feet above seabed.
Central Market or known as Pasar Sri Tanjung Tawau, Pasar gantung tawau,Pasar fish market.It offers goods arrived locally and neigbouring islands.(such as Nunukan and Tarakan).
Tawau Bazaar opposite to Marco Polo Hotel is the best place to buy goods such as Batik sarongs, merchandises, Sabah T-Shirts, handicrafts, branded cosmetics with cheaper price.

Content is available under Creative Commons Attribution-ShareAlike 3.0