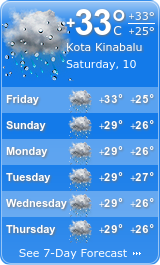 The capital of the state of Sabah located on the island of Borneo, this Malaysian city is a growing resort destination due to its proximity to tropical islands, lush rainforests and Mount Kinabalu. Generally referred to as KK, it is located on the west coast of Sabah within the West Coast Division. KK is the largest city in the state in Sabah and is the main gateway into the island of Borneo.

KK lies by the coast overlooking South China Sea on a narrow flatland and occasional hills bordered by Crocker Range which hosts Mount Kinabalu. The urban sprawl is concentrated along the coast towards the north and south of the city.

Get in
---
By bus
There are two long-distance bus terminals.

South Bus Terminal, is across the road from Wisma Wawasan and serves destinations south of Kota Kinabalu, Beaufort, Sipitang and Lawas.

North Bus Terminal, is in Inanam, 10 km to the northeast of the city centre. This terminal serves buses going north and east of Kota Kinabalu, including Mount Kinabalu, Sandakan, Semporna and Tawau.

By plane
Kota Kinabalu International Airport IATA: BKI (KKIA) is Malaysia's second busiest airport and the main gateway to Sabah and situated around 7 km from the city centre. There are two terminals in the airport, Terminal 1 and Terminal 2. Terminal 1 serves full-service airlines such as Malaysia Airlines, Asiana Airlines, etc. while Terminal 2 serves budget airlines such as AirAsia and Cebu Pacific.

Terminal 1 and Terminal 2 are located on different sides of the runway, so it is not advisable to walk between terminals as it is quite far from each other (but if you insist, the journey might take about 50 minutes). Apparently there are no shuttle buses between the terminals and the most convenient way is by taxi. Terminal 1 is accessible from from Jalan Kepayan near Kepayan and Terminal 2 is accessible from Jalan Mat Salleh in Tanjung Aru.

By road
All main roads in Sabah radiate out from Kota Kinabalu. The main road to the Sarawak border at Sindumin heads south from the city through the suburbs of Kepayan and Tanjung Aru and goes past Papar, Kimanis, Beaufort and Sipitang. From Sindumin, the road continues to Lawas and on to Brunei and it is possible to travel from Kota Kinabalu to Brunei in a day. Another main road goes north to Kudat via Kota Belud. The main road to the East Coast (Sandakan and Lahad Datu) branches off from this road at Tamparuli. Another main road heading southeast leaves the suburbs of Penampang and Donggongon towards Tambunan, Keningau and Tenom. Travel by private car to KK is quite popular with visitors from around Sabah including Sandakan and Tawau, Labuan, Miri and Brunei.

By sea
The only regular access to Kota Kinabalu by sea is from Labuan. The ferry service takes about 3 hours and there are two services from Labuan every day: 8.30am and 1.00pm. From Labuan, you can continue on to Bandar Seri Begawan in one day if you get an early start. A package ticket to Brunei costs RM56. See the Kota Kinabalu to Brunei in a day page for details. Ferries from Labuan docks at Jesselton Point Ferry Terminal on the northern edge of the city centre.

Kota Kinabalu is one of the port of call for many cruise ships passing through east Asia such as Queen Victoria, Queen Mary 2, Diamond Princess, MV Arcadia and SuperStar Virgo via cruise lines such as Cunard, Star Cruises, Princess Cruises and P&O Cruises. Cruise ships will usually dock at Kota Kinabalu Port north of Jesselton Point Ferry Terminal.

Get around
---
On foot
The city centre is quite small, and you can walk from one end to the other in less than 30 min. Safely crossing the street can be an issue, but most streets are at least equipped with sidewalks. You can also walk to and from the airport (1-2 hr each way). Even the highways outside of town usually have a walking path or a wide grassy shoulder to walk on.

By taxi
Haggling is absolutely vital in order to get a fair price. Many taxi drivers in Malaysia are infamous for raising their fare prices, even after a price has already been determined by thorough prior negotiation. They frequently attempt to manipulate and deceive unknowing tourists by feigning ignorance and delivering tourists to the wrong hotels, which sometimes provide kickbacks to the drivers. Mentioning a call to the authorities may resolve the situation quickly.

By Bus and minibus (van)
The main depot for buses and minibuses from the city center to the suburbs such as Putatan, Tanjung Aru, Kepayan, Luyang, Penampang, Likas, Inanam and Menggatal is the Wawasan Bus Terminal opposite Wawasan Plaza. All buses coming in from the suburbs can only stop in this depot to avoid congestion in the city center.

Wawasan Bus terminal also serves as a depot for long-distance buses towards south of Kota Kinabalu. A new southbound long-distance bus terminal has been planned for construction near Terminal 1, KKIA in Kepayan. North- and east-bound long-distance buses departs from the North Bus Terminal in Inanam, 25 minutes from the city center. There shuttle buses between these terminals.

To travel within the city center, the City Bus is used. The green and yellow City Bus departs from Wawasan Bus Terminal and circles the city center using 4 routes: Route 1A, 1B, 2A and 2B. City Buses are quite frequent. However the conductor and driver often encourages more people to get on the bus until totally crowded before it leaves.

By train
Sabah State Railway recommenced operations in February 2011 using new air-conditioned trains on a single 134 km route from Tanjung Aru south of the city centre to Tenom in the interior via Papar, Kimanis and Beaufort. Four trains operate daily except for Sunday, when there are only two trains, running between Tanjung Aru station and Beaufort, where you change trains if you want to continue your journey to Tenom. Journey time between Kota Kinabalu and Beaufort is about 2 hr, making it more attractive for travelers to take the bus for part of the journey. The train stops the following places: Kota Kinabalu (Tanjung Aru), Putatan, Kinarut, Kawang, Papar, Kimanis, Bongawan, Membakut, Beaufort, Saliwangan, Halogilat, Rayoh, Pangi and Tenom.

Trains for Tenom run from Beaufort once a day at 7:45AM so to take the train to Tenom, you will have to stay over night in Beaufort.

A leisure train service known as North Borneo Railway caters to tourists and uses an old steam train and designed to resemble trains in the colonial era. This is a joint venture project between Sabah State Railway and Sutera Harbour Resort. Currently trains only travel up to Papar.

By boat
There are speedboat services from KK to the islands in Tunku Abdul Rahman Marine Park just off the coast of Kota Kinabalu from Jesselton Point Jetty with regular departures to Manukan, Sapi, Gaya and other islands. Cost per person is between RM17 and RM40 depending on island. There are also departures from the Sabah Parks Jetty behind Wisma Merdeka and Sutera Harbour. There are also speedboats for charter where travellers can have the flexibility of time and destination.

Food, Shopping & Information
---
Try dives, leisure diving, technical diving and snorkelling are all available from Kota Kinabalu.
Several interesting dive sites can be enjoyed as day trips from Kota Kinabalu with nearby World War II wrecks accessible for scuba diving. Some are in the 24-45 m depth range whilst other wrecks are only suitable for technical diving. Advanced and basic diver training courses are run from Kota Kinabalu by several dive centre operators.
Kota Kinabalu is also one of the best and cheapest places in Malaysia for exciting deep sea fishing trips. Boats depart from the makeshift jetty next to the Kota Kinabalu Central Market, the boats are to be found behind the small night market/parking lot.
The nearest place for rafting would be in Kiulu River, Tamparuli, about 1 hour away from KK. The white water is classified Grade 1-2 which is suitable for beginners. A more adventurous rafting experience is Padas River near Tenom which is about 2-3 hours away from Kota Kinabalu.
Klias River is located within the Klias Wetland Mangrove Forest Reserve which is located near Kuala Penyu district about 1.5 hours away from town. The cruise offers visitors a chance to see various wildlife including the proboscis monkey and fireflies.
Kota Kinablu is a cultural melting pot. Here Chinese meet Malays and Bruneis, Javanese, Filipinos and even a couple of Europeans, all of whom have brought along their own cuisine. Try out the many specialties offered at the various kedai kopi (often in buffet form making it easy to order) and shun fast food chains.

Content is available under Creative Commons Attribution-ShareAlike 3.0