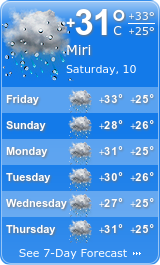 Miri is a small city in northern Sarawak on the Malaysian island of Borneo. It has a population of about 300,000.

Get in
---
By plane
Miri International Airport (MYY), which moved to a sparkling new facility in 2005, is a significant hub for central Borneo. From Peninsular Malaysia there are frequent flights from Kuala Lumpur and Johor Bahru on Malaysia Airlines and AirAsia. The airport is also connected to all major destinations in Malaysian Borneo, including Kuching and Kota Kinabalu. AirAsia also operates an international flight to Singapore several times a week.

MASWings, which took over operations of the rural air service from FlyAsian Express on October 1, 2007, operates a web of flights to remote destinations in the interior, most notably Gunung Mulu National Park and Bario in the Kelabit Highlands. MASWings also links Miri with Limbang, Lawas and Labuan which will enable you to by-pass expensive Brunei.

By bus
To/From other Sarawak cities: Numerous bus companies link Miri with other Sarawak cities such as Kuching, Sibu and Bintulu. Most express buses depart from the Express Bus Terminal.

To/From Brunei: As of April 2010, there are two direct services between Bandar Seri Begawan and Miri. PHLS Express operates a dedicated BSB-Miri service, leaving BSB at 8:15AM, and the return service presumably early afternoon. Note that this terminates at Tudan terminal, some distance north of BSB city centre, but with local bus connections. The other service is EVA Express, with buses from BSB to Kuching etc, which pass through Miri.

To/From Kota Kinabalu, Sabah: Bintang Jaya Express opened a new route from Miri to Kota Kinabalu (KK) and return in November 2008. The route originates from Pontianak in Indonesia to Kuching, Miri, Limbang, Lawas ending in KK Wawasan Bus Terminal. Bus departs Miri at 8.00AM on Mondays, Wednesdays and Fridays. The journey takes approximately 10 hours without changing buses. From KK the bus departs at 7.30AM on Tuesdays, Thursday and Saturdays.

To/From Niah Caves: Bas Suria departs from the Miri Express Bus Terminal to Batu Niah town regularly. The journey takes over an hour. From Batu Niah, you can either take a speedboat or walk to the Niah National Park headquarters at Pengkalan Batu.

The more frequent service uses local buses in Miri and Brunei. The journey will have to include several bus changes. Miri-Belait Bus Company runs five buses between Miri and Kuala Belait in Brunei, with a change of buses at the Sungai Tujuh border checkpoint.

Get around
---
Bus services are available. 24-hour taxi service is also available

Food, Shopping & Information
---
There are three major shopping malls to shop around in Miri City, During the weekends Bruneians and Sarawakians from Bintulu, Bekenu, Niah would come down for Shopping.
For a fabulous gastronomical experience, Miri is the place to try out all sorts of food. Depending on your budget, there is a variety of eateries around.
Tourists are encouraged to try the Sarawakian authentic rice wine known as 'tuak'. 'Tuak' is usually served during festive seasons, especially during Gawai (the Harvest Festival celebrated by the Ibans).

Content is available under Creative Commons Attribution-ShareAlike 3.0