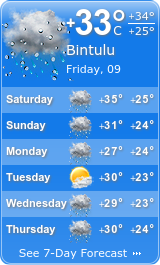 Bintulu is a part coastal, part riverine town, and the capital of Bintulu District (7,220.4 square kilometers) in the Bintulu Division of Sarawak, Malaysia. It is approximately 624 km away from Kuching and about 215 km from either Sibu or 205 km from Miri. It is a home to about 200,000 inhabitants. Bintulu is known as a place of 'making a living'. Although it is not a main tourist destination in Sarawak, the local authorities such as Sarawak Tourism Board and Bintulu Development Authority are now making a lot of efforts to make Bintulu a tourist heaven.

Bintulu is a major industrial centre, and soon to be a capital of energy-intensive industries in Malaysia. Its port area to the east of the main town hosts the Petronas Liquified Natural Gas (LNG) Complex, currently the world's largest liquefied natural gas production facility on a single site, and also the very first Shell Middle Distillate Synthesis plant.

The town is geographically situated half way between Kuching and Kota Kinabalu. Bintulu is a central gateway to tourist spots like Bakun Resort, Niah Caves (Gua Niah in Malay), Mulu National Park, Longan Bunut National Park, Lambir National Park, Sibuti Wildlife Sanctuary, Rejang Pelagus, Belaga and the Bario Highlands.

Get in
---
By plane
Bintulu Airport (IATA: BTU) is main gateway for Bintulu division (which can further bring travellers to Sebauh, Tatau, Selangau, Belaga and Niah). There is daily connection to Kuala Lumpur on Malaysia Airlines, AirAsia, as well as daily flight to Kuching. MASWings, which took over the rural air service from FlyAsian Express (FAX) on October 1, 2007, links Bintulu with Mukah, Miri, Kota Kinabalu and Belaga. International connections are not available since that Bintulu is not declared as an international airport.

The airport was previously located at Bintulu oldtown (which is now being used for other purposes such as International Borneo Kite Festival and other ceremonies). It was re-located to a new location which is 25km away from Bintulu town.

Bintulu town is about 20 minutes away by car. There are no buses serving the airport. One can be a little bit adventurous by walking for about 1.5km out of the airport to the airport crossing and catch Jepak bus to Bintulu town. Warning, this is an extremely rare thing to be done, so just spare some cash for a taxi to Bintulu town instead.

By bus
Bintulu regional express bus terminal is located at Medan Jaya, located not so far from Farley Supermarket. All Sarawak major towns and cities like Kuching, Sibu, Miri, Mukah, Betong, Sri Aman, Sarikei, Batu Niah and Sungai Tujuh are well connected with Bintulu. Wide array of choices pamper travellers such as MTC Transport, Biaramas, Eva Transport etc. One can also expect towns which can only be served by Bintulu bus terminal such as Sg. Asap (a small town in Belaga area) and Bakun (a hydro-electric project). An international link bus such as to Brunei (via Sg. Tujuh) and Pontianak, Indonesia can be bought at the terminal. Estimated travelling time from Kuching to Bintulu is 9 hours, which sometimes transit to other main towns.

By boat
Express boats can only link to Bintulu town from other smaller Bintulu suburban and rural areas such as Sebauh, Tubau and Labang. No express boats serving Bintulu town to other major cities/towns in Sarawak.

By car
There is an extensive network of sealed roads linking Bintulu to major cities and towns. One can expect the furthest is from Pontianak (around 1050km) or even to as far as Tawau in Sabah (more than 1000km). Bintulu is always a transit town from Kuching to Kota Kinabalu.

Get around
---
By bus
Bintulu has one of the most efficient bus transportation system in Sarawak. The bus serves transport to other minor parts of the town to as far as Sg. Asap and Tatau/Kuala Tatau. Municipal bus can be found one stop at the Pasar Tamu Bus Terminal. Normally, only rural people and low-income group urban and suburban people use bus.

By boat
Various express boats serve Bintulu which connect Bintulu to other minor towns and rural areas such as Sebauh, Tatau, Kuala Tatau, Tubau and Labang. Travelers can also opt to rent a 'perahu' or speed boat to other minor towns for greater adventure.

On foot
Bintulu old town is quite a pedestrian-friendly with lots of traffic lights served for pedestrians. However, walk to other parts of town might be a tiring one, especially to Parkcity Commercial area and Medan Jaya.

Food, Shopping & Information
---
Bintulu has hosted several festivals and celebrations throughout the year.
Fishing is one of the popular hobbies in Bintulu. People can opt for fishing at the rivermouth of Kemena river, or at the sea for seafood, or if you are looking for freshwater food, you can go fishing at Tubau river, Tatau river (upriver area) or Jelalong river. However, beware of crocodiles and shallow water.
Due to the sizeable expat population here thanks to its oil & gas industry, Bintulu is not lacking in night life entertainment. There are numerous bars, pubs, clubs & karaokes here for the working class to relax and enjoy themselves after a hectic day.
There are some items you must buy when you are Bintulu. Here are those most essential items that you must buy when you visit Bintulu: Belachan (Shrimp Paste), Cincaluk (Fermented Shrimp Paste), Terendak (Melanauh Headgear), Tutop (food cover), Sagu products.

Content is available under Creative Commons Attribution-ShareAlike 3.0