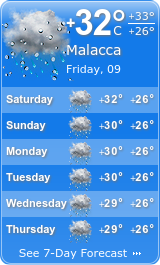 Malacca (Malay: Melaka) is the capital of the state of Malacca, on the west coast of peninsular Malaysia. Visiting Malacca is a unique experience with a rich historical and cultural background from previous Portuguese, Dutch and British rule. The city centre was listed by UNESCO as a World Heritage Site in July 2008, along with Georgetown, Penang.



Get in
---
By bus
Many long-distance express buses connect Malacca with both Kuala Lumpur, Seremban, Johor Bahru, Singapore and other parts of Peninsular Malaysia.

All long-distance and local buses now operate from the Melaka Sentral bus terminal, a good 4.5 km from the historic core of the city.

Express buses will also drop you off at Malacca Central/Melaka Sentral.

Walk to the back of Melaka Sentral bus station and you can take a local bus nr.17 all the way to the principal backpackers district. This bus goes to Chinatown and Taming Sari. The closest stop to Chinatown is Dutch Square, which you will easily identify from the brick red Christ Church and Stadthuys; note that nr. 17 is a loop line, so when you need to go back to Melaka Sentral you could take it at the same place where you got off. It is better to walk to the other side of Jonker Street and catch it on the left in front of the Payfong School; look for folks standing around and ask. This cuts half an hour out if the circuit. Note also that there are no bus stop signs in the centre of Melaka. For the return trip (whole circuit) back to the bus station be aware that at peak hours the bus might take up to 90 minutes.

On the 17 line, there is supposedly a Portuguese settlement purportedly with good seafood. Ask the driver and keep reminding him you want to get off there; he will forget.

From Kuala Lumpur - Southbound buses now leave from new bus terminal Bersepadu Selatan, which is located just next to LRT station and KTM Komuter station Bandar Tasik Selatan.

From Singapore - Many bus companies operate from Lavender St. bus terminal directly to Melaka Sentral. Bus schedules vary between companies but some operates have hourly buses. Best show up and buy tickets in advance if you want to travel on Saturday morning and return Sunday afternoon as many Singaporean tourists have the same idea.

By plane
Malacca International Airport (IATA: MKZ, ICAO: WMKM) (formerly known as Batu Berendam Airport is located about 10 km from the city of Malacca.

By car
Malacca can be accessed from the North South Expressway. When coming from the south, drive along E2 and leave the expressway at the Ayer Keroh exit. Alternatively, one can leave the highway at the Simpang Empat exit and proceed through normal road to Melaka. This route will pass through the town of Alor Gajah and now with the new highway (ring road) completed, the trip from Simpang Empat to Melaka will take approximately 20-30 min by car.

Malacca city is on the Coastal Trunk Road (Federal Route 5), and can be accessed from the Main Trunk Road (Federal Route 1) by turning off at Simpang Kendong or Tampin, Negeri Sembilan. Malacca is 150 km (93 mi) from Kuala Lumpur, 216 km (134 mi) from Johor Bahru, and 90 km (56 mi) from Port Dickson.

By train
Malacca Town is not served by any railway lines. The nearest railway station is at Pulau Sebang (Tampin), in the Alor Gajah district about 30 km (18 mi) away. The station is on the main Kuala Lumpur-Johor Bahru line and served by all trains.



Get around
---
By car
Driving around Seremban is quite tough during the day with constant streams of busy traffic but not as bad as Kuala Lumpur or Penang Island due its volume. Traffic gets less busy away from the Seremban and Port Dickson toll plazas (towards Seremban 2)and Lake Gardens (Taman Tasik). Roads that should be avoided during peak hour include Jalan Tuanku Antah (Main road to Senawang), Jalan Rasah (main road to Port Dickson toll plaza), Jalan Sungai Ujong (main road to Seremban toll plaza)as well as the main city centre itself.

By taxi
There are also chartered taxi services available at end of Jalan Kee Ann. These chartered taxis travel within Melaka state and outside Melaka such as to KLIA International Airport, Kuala Lumpur and even Singapore. They carry up to 4 passengers at a time. Malacca has a really lousy public transportation system. Most of the taxis in Malacca don't have a metered system, their charges are random and dependant upon the driver and passenger.

By boat
Daily ferries run to and from Bengkalis, Dumai and Pekanbaru in Sumatra, Indonesia. All ferries arrive and depart from the Harbour Master's jetty (Jeti Shahbandar) at Taman Melaka Raya near the Maritime Museum. To get to/away from Jetty: Malacca Town Bus No. 17 (Green) goes near the Harbour Master's jetty which is just down the road from the Red Square.



Get around
---
Malacca is by no means a small city, but exploring on foot is a good idea. You could rent a bike. Be mindful not to hold up traffic while taking pictures of buildings. The locals have generally good driving sense and adhere to traffic laws.

By monorial
A 1.6-km monorail system was opened with much fanfare in October 2010, but it was plagued with problems and promptly taken out of service. As of December 2010, the monorail was not operational. But, in 2012, its suspension was lifted. The authorities allowed it to be run with some conditions, such as no service during heavy rain.

By car
Streets in the older/historical part of the city are very narrow, so they quickly become clogged during peak hours. This is especially so during the weekends, when cars from other parts of Malaysia and from Singapore flood to the city. Finding a car park lot is also extremely difficult during weekends. Most of the roads are also one-way, so plan your route properly.

By taxi
Metered Taxis are just about everywhere. Taxi Drivers are quite tourist friendly though not all taxi drivers will speak English. A few taxi drivers also maintain their business cards for more business from tourists.

By bus
Generally the bus system in Malacca is worse than chaotic: there doesn't seem to be a schedule (we waited today for more than an hour for a bus on the coast just north of Malacca - quite normal according to our bed and breakfast house hostess), and information about where and what busses to catch at Sentral is non-existent (you may get lucky looking at the printed paper displays near the front of the busses).

The alternative, namely to take a taxi, is expensive, since the meters in the taxis are generally not used, and the drivers like to overcharge foreigners and apparently give kickbacks to reservation agents at hotel concierge desks.



Food, Shopping & Information
---
Malacca is famed for its antiques, with many a beautiful shophouse interior now filled to the brim with artefacts from all around the Asia Pacific region. Your chances of finding a bargain here are minimal though; prices in many of the tourist-oriented places are absurdly high by any standard, and although many items are touted as being 'more than a hundred years old', most is brand new but 'aged' at the back of the shops.
The older part of the city proper has, in addition to the old palace and the large buildings left by the Europeans, many private houses and shops from nearly a century or more ago, put up by Chinese traders. Many of these have beautiful details such as moulded porcelain tiles and painted plaster reliefs on the front. Unfortunately, they tend to be not well preserved and the city government decided to paint all the buildings in the historical district a bright brick red some years ago, as the constant spitting by passers-by was proving a nuisance, which detracts from their aesthetic value.
Note that on Tuesdays, many museums, shops, restaurant are closed, especially in the Jonker Street area. If you have only one day to spend in Malacca, do not go on Tuesday!
Besides the usual Malaysian fare, you'll be able to sample some rather peculiar Malaccan food. On top of the list is of course Peranakan or Baba-Nyonya food, which until recently was totally uncommercialised and confined to the kitchens of old grandmothers. Now, there are a string of restaurants claiming to serve Peranakan food, most unfortunately seem to be on the tour bus circuit. The dishes are slightly different from that of the Penang Peranakan. Usual ones include ayam pongteh (chicken in bean sauce, originally cooked with pork) and ayam buah keluak (chicken cooked with a bitter fruit) and a whole array of desserts. Another famous Malacca dish is what is commonly called "chicken rice ball". Although it is called Hainanese chicken rice, it is not from Hainan, China, but invented by the Hainanese immigrants to Malaysia a long time ago. The chicken for this dish is very much the same as the boiled chicken offered throughout Malaysia; what is unique is the rice - it comes in ping-pong sized balls. Yet another Malaccan speciality is satay celup. It is like lok-lok found in other parts of the country but instead of dipping your skewered foodstuff (fishballs, crabsticks, meat, prawns and etc) into boiling water, you dip them into a boiling vat of satay sauce. The sight of boiling satay sauce may not appeal to you but the crowds at the satay celup outlets seem to suggest that many have overcome their phobias.
Of course, Malacca is where you'll find Portuguese-Eurasian food. The greatest concentration of outlets will be at the Portuguese Settlement. Seafood is popular, as is the fiery "devil curries".
Asam Pedas, the signature dish of the state. A very hot and mild sour fish curry which accompanying white rice. Normally eaten during lunch and dinner.
Sambal Belacan, very spicy local chilli prawn paste.
Cencaluk, can be found sold along the roads near Klebang Beach. Made of fermented krills. A bit weird tasting for those who are not used to it.
Lemang, glutinous rice cooked in bamboo, sold on the side of the road to Teluk Mas.
Ikan Bakar, head to Umbai, Pernu or Serkam for a dinner of fresh caught grilled fish and crustaceans.
Kuih Udang, you can find this popular tea time dish in Alor Gajah town. The sauce is nice too.
Kuih-muih, traditional cakes and deserts like dodol, wajik, lempok, inang-inang, gula melaka and many more are sold in shopping mall at Bandar Hilir, Klebang Beach and kampung area throughout the state.
Roti John, an invented omelette sandwich, very popular among the Malays. For a good one, look for the restaurant in Tanjung Kling.
Local burger, the street stall vendors, generally local Malay men serve quite tasty and satisfying burgers and hotdogs and it's cheaper than ordinary fast food restaurants too.
The recent tourism boom has seen many new food and beverage outlets open in Malacca, and especially in the heritage area of Jonker and Heeren Street. However, competition is great and some outlets fail to survive. Places you discover on your first visit may not be around anymore on your second.
Content is available under Creative Commons Attribution-ShareAlike 3.0