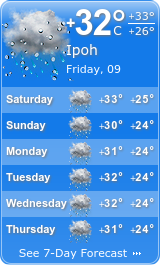 Ipoh is the state capital of Perak, on the west coast of peninsular Malaysia. It is the country's fourth largest city and a gateway to the Cameron Highlands.



Get in
---
By train
Trains head as far north as Butterworth and as far south as Singapore via Kuala Lumpur. Kuala Lumpur is predictably well served by several trains per day. To KL, old diesel trains will take 3 hrs and New electric trains will take 2 hrs.

By bus
The main bus terminal is Amanjaya 16 km from town center. due to traffic jams, journey takes 45' up to an hour from where buses run to most of Peninsular Malaysia. Most frequent routes are to and from Kuala Lumpur (Puduraya Station), Singapore and Penang. Larger bus companies provide the most frequent, reliable and safe services. For Taiping and the Cameron Highlands, the local bus station is more convenient.

Some bus companies also operate from more convenient locations in the town: mainly Jalan Bendahara. Choice is limited but for KL, Singapore, Penang or Butterworth, they represent a better option than a trip out of town.

By plane
Ipoh is served by the Sultan Azlan Shah Airport (IATA: IPH). Firefly operates twice daily flights to and from Terminal 2 of Singapore Changi Airport.

By car
Ipoh is well connected to the North-South Expressway. You can get into Ipoh via Exit 137: Simpang Pulai or Exit 139: Ipoh Selatan.



Get around
---
By car
The city centre grid layout contains mainly one-way streets. Road maps are available in bookstores, tourist centres and online. Traffic is not as heavy as in other cities such as Kuala Lumpur but the rush hours are usually congested. There is adequate parking but finding a space may require some patience and you have to pay using coupons. Car rentals are available.

By bus
Local buses run around the city and its suburbs and have hub called Ipoh Bus Terminal, Jalan Raja Bendahara (or also bas stesen), which is actually on Jalan Tun Abdul Razak in the old town (follow the road south from the railway station and past the post office, the bus station is on the right of the first big junction). This is not to be confused with Jalan Bendahara which is in the new town and has long distance services by some bus companies.

Local bus information is not well published but there is an helpful information desk at the bus station. Visitors may find this bus station useful for its services to the Cameron Highlands, Taiping and to the main long distance bus terminal at Medan Gopeng. Useful to look out for is local bus number 94, which heads from the bas stesen through the old and new towns to the Medan Gopeng long distance terminal and the Sam Poh Tong Cave Temples. It calls at the following bus stops in the new town: Tingat Pasar, on the south side of Pasar Besar; at the junction of Jalan Raja Musa Aziz and Jalan Theatre; and on Jalan CM Yusuf, near the Grand Park Hotel and Sri Maju Bus Terminal.

By taxi
Prices are by negotiation. It is possible to take the taxi all the way up to Pengkelan Hulu (near the Thailand border).

By bicycle
There are no hard and fast rules for cyclists, but you are expected to observe road rules at all times. Cyclists are forbidden from riding on the sidewalk but often do. Helmets are optional but not common.

On foot
Most roads have pavements and marked crossings, which makes strolling around the old streets a pleasant experience.



Food, Shopping & Information
---
Like everywhere in Malaysia, the local food is dirt cheap and sublime. Some local specialities to look out for include chicken and beansprouts - chicken with boiled bean sprouts served with soy sauce, sesame oil and either rice or noodles; Ipoh sar hor fun - flat rice noodles in clear chicken and prawn soup with chicken shreds, prawns and spring onions; salted chicken - whole chickens wrapped in "paper" and then baked in large woks filled with heated salt; pomelos - a citrus fruit with massive rind and mild taste.
Ipoh offers some interesting specialties including, Ipoh Fragrant Biscuits - traditional flaky biscuits containing a sweet paste.
Ipoh White Coffee - coffee beans specially roasted with palm-oil margarine.
Content is available under Creative Commons Attribution-ShareAlike 3.0